Getting your HSC results
Getting your HSC results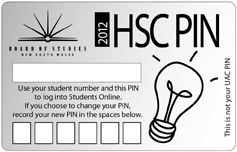 HSC students need their student number and HSC PIN issued by the Board of Studies to access their results online, by SMS or by telephone.
Lost or forgotten PINs can be recovered via Students Online or by phoning Student Records on (02) 9367 8001.
The Board of Studies student number and HSC PIN are different to the UAC Number and PIN.
2012 HSC results
This year HSC results will be available online, by SMS and telephone from 6.00 am, Wednesday, 19 December.
Online
To access results online, use your student number and HSC PIN to log in to Students Online and go to your My Details section.
Internet access charges can apply. To protect your privacy please ensure you log out from computers that are shared with others or used in a public place.
SMS
Results can be obtained via SMS by texting your student number, followed by a space, followed by your HSC PIN to 0427 555 999.
| SMS Sample | What sample represents |
| --- | --- |
| NSW BOS 2012 | NSW Board of Studies 2012 Results |
| EngAd 85 5 | English (Advanced), HSC Mark 85, Band 5 |
| FrenB 85 5 | French Beginners, HSC Mark 85, Band 5 |
| Geog 81 5 | Geography, HSC Mark 81, Band 5 |
| GMaths 72 4 | General Mathematics, HSC Mark 72, Band 4 |
| HistX 43 E3 | History Extension, HSC Mark 43, Band E3 |
| MHist 91 6 | Modern History, HSC Mark 91, Band 6 |
Telephone
For HSC results over the phone:
Dial 1300 669 248 and follow the voice prompts
Enter your student number and HSC PIN when asked.
Calls are charged at standard local rates and are higher from mobile or pay phones.
Mail
HSC credentials will arrive in the mail on Tuesday, 15 January 2013. Please check your contact details are correct in your Students Online account.
Important information about privacy
The Board of Studies NSW will provide the personal details and results of all NSW students to the Universities Admissions Centre for the calculation of the Australian Tertiary Admissions Rank or ATAR and to TAFE NSW. In addition, your principal and some approved officials from the school system to which your school belongs – the Department of Education and Communities, the Catholic Education Commission or the Association of Independent Schools – will also have access to your results.
The Board publishes HSC merit lists on its website and provides these lists to select media outlets. HSC merit lists include the name, school and course/s of all students who, for example, achieve a HSC mark in the top band in any course. The Board does not provide the media with the names or the results of any other students. If you choose not to have your name published on the Board's website and provided to the media you will not be eligible to receive associated prizes.
Please read the privacy policy. If you require further information on privacy issues or wish to be removed from a published merit list, please email Student Records at records@bos.nsw.edu.au.