HSC Exam Workbooks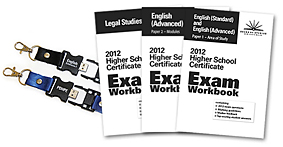 HSC Exam Workbooks for the 2012, 2011 and 2010 HSC exams are available from the Board of Studies NSW.
The essential study resource for all HSC students
The Board of Studies HSC Exam Workbooks provide students with real samples of top students' exam responses, complete with markers' comments.
Answering the exam questions then comparing with the best students' responses provides candidates with a valuable insight into how to handle different questions in a real-life examination setting.
Reading the marking guidelines and comments will give students additional knowledge about what the examiners are looking for in responses.
Each workbook contains:
the actual HSC exam questions
the guidelines provided to exam markers
samples of top-scoring student responses
specific markers' comments on student responses.
2012 HSC Exam Workbooks now available as:
Hardcopy books
Biology
Business Studies
Chemistry
Economics
English (Standard and Advanced) Paper 1
English (Standard) Paper 2
English (Advanced) Paper 2
Legal Studies
Physics
Studies of Religion
USB drive with lanyard
Personal Development, Health and Physical Education (PDHPE)
English Extension 1