Baulkham Hills High School

Respect and Responsibility
Promoting values in education

Baulkham Hills High School
Tony Fugaccia, Principal
Tel +61 2 9639 8699
Dimensions: Cultural Exchange, Leadership, Community Partnerships, Peer Support
A Strong Sense of Community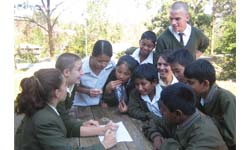 The school has programs that reflect the values of Respect and Responsibility.
The school engenders a strong sense of community. The notion of community begins within the school environment through a dynamic SRC, a Student Tutorial Service and a Student Reading Support Program. It is this in-school sense of community and social responsibility that fosters the attitudes that have energised our 'out reach' programs in the local community.
The current list of community activities undertaken by our students include:
The World's Greatest Shave - where in excess of $8 000 was raised
$10 000 raised for Tsunami Relief
Volunteer work in the Khaoi Chau Orphanage in Vietnam as part of the Duke of Edinburgh Scheme
Blood Donation program - with 350 donations to the Red Cross in 2005
Prefects working with under-privileged persons, the elderly and the disabled.
The school prides itself on reflecting the values of public education and the notion of equality of opportunity. To this end we have a policy of flexible response to changing community needs, building on the already established community links.