Domremy College, Five Dock

Respect and Responsibility
Promoting values in education

Domremy College, Five Dock
Gilda Pussich, Assistant Principal
Tel +61 2 9712 2133
Dimensions: Leadership, Student Welfare
Restorative Justice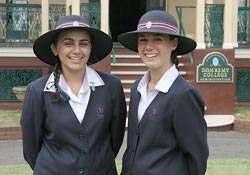 Domremy College Five Dock is a Catholic Secondary School for girls in Years 7-12. The Presentation Sisters established the College in 1911.
Through quality teaching and learning Domremy strives to empower students to recognise their self worth and reach their potential, to work towards independence, to develop courage and integrity, to question and challenge the values of society, to work for justice and to promote the dignity of the human person.
The Working Principles of Restorative Justice have been adopted as the overarching framework of the student management system. Restorative Justice, through the use of Affective Questions, provides a way for students to reflect on situations, understand the impact on themselves and others, acknowledge responsibility, make amends and look at what needs to be done to avoid the same occurring in the future. It can take the form of a written response followed by a restorative chat, interview or conference.
Working Principles of Restorative Justice
Foster awareness in the student of how others have been affected.
Avoid scolding, lecturing or blaming.
Involve the student actively.
Accept ambiguity. Often fault is not clear.
Separate the deed from the doer. Recognise a student's worth while disapproving of their wrongdoing.
See serious instance of wrongdoing and conflict as an opportunity for learning.
Restorative practices must be supported by the entire school community.