Trinity Catholic College, Lismore

Respect and Responsibility
Promoting values in education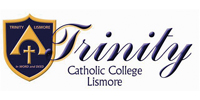 Trinity Catholic College, Lismore
Susanne Gilmour, College Counsellor
Tel +61 2 6621 8155
Dimensions: Student Welfare, Leadership, Peer Support
Youth Support Website
Trinity Catholic College Lismore is a large, regional College with an enrolment of 1350 secondary students. In 2005, College Counsellor and Educational Psychologist Susanne Gilmour initiated a new Youth Support website at www.trinity-ys.com to allow students and parents/carers, who do not always have ready access to youth support services, to search for information and help on-line from the College Youth Support staff.
There is a section for parents/carers with links to some helpful websites and tips to enhance parenting skills.The page will include details of any local or College initiatives that may be of interest to carers of teenagers, or related to pastoral care.
From this site, Trinity students are able to communicate electronically with the College Counsellors and with senior students trained in peer support through a Discussion Board. This ensures that students, especially those who are most vulnerable, feel that their privacy is respected while they seek informed advice beyond their peer group about issues including dating, drugs, friendship and family issues, body image and school pressures.
In the short time since its inception, the 'Trinity-Ys' website has been warmly welcomed by students as an outward expression of the College's ethos of caring for students in a supportive environment. Already, there have been opportunities for many students to take on a leadership role and over time, the project aims to involve students more heavily so that they take greater responsibility for maintaining the website and providing peer support for younger students.