Stronger HSC Standards
Stronger HSC Standards
View the Minister's video message (above) to students explaining how the changes will affect them.
To help support high school students achieve their best, the Higher School Certificate (HSC) is being reformed.
The changes are designed to help motivate and challenge students to achieve at their highest possible level, reduce excessive stress and give students more skills and career options.
The reform will create stronger HSC standards by focusing on:
The changes will provide a flexible HSC that caters to all students' needs, with options for further study extensions. Plagiarism and pre-prepared responses will also be reduced.
From 2020, all Year 12 students in NSW must reach the minimum standard of numeracy and literacy to receive an HSC. This means students undertaking Year 9 in 2017 will be the first students expected to meet the minimum standard.
BOSTES is responsible for the reforms, which emerged from extensive consultation over three years. We will continue working with teachers, educators, parents, business and the community to ensure the reforms provide a solid grounding for all students.
The Stronger HSC Standards Blueprint and the Stronger HSC Standards Current State, Future State outline the reforms in more detail.
The Stronger HSC Standards Overview of the Evidence provides the research and rationale for the reforms.
School, teacher and parent resources
Download resources explaining the minimum literacy and numeracy standards.
Timeline
The HSC reforms will come into effect over the next four years.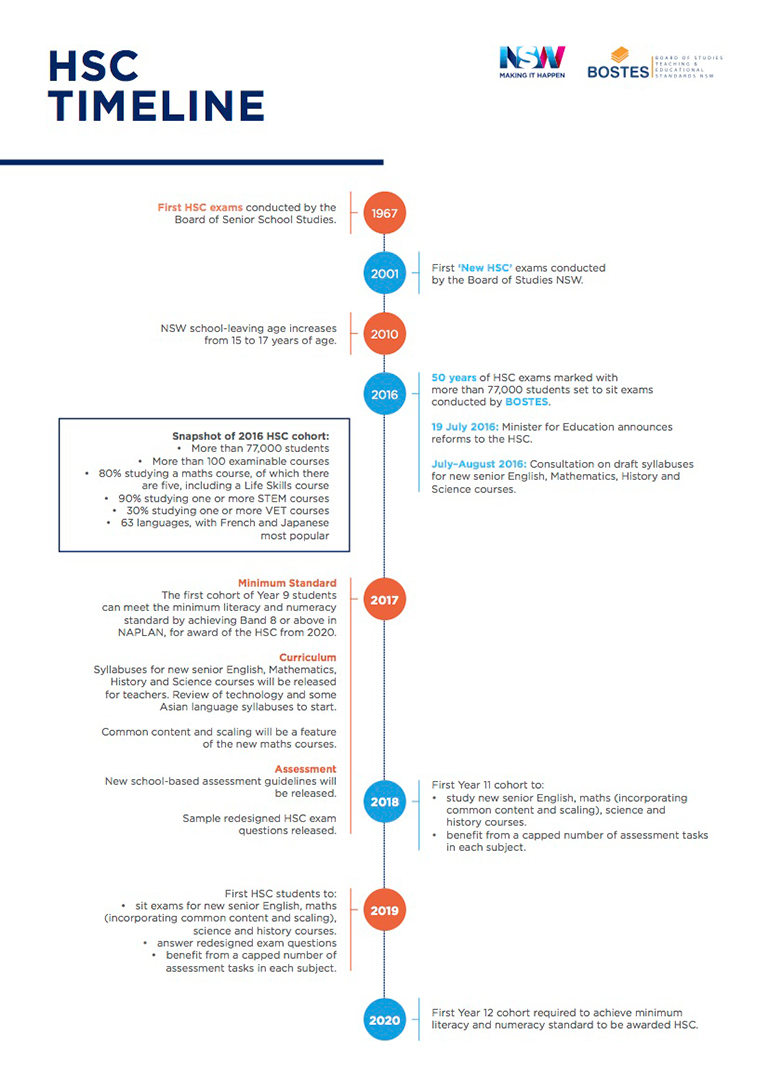 Read more about the history of the HSC and statistics.