2014 President's message
President's address
Quality syllabuses for quality outcomes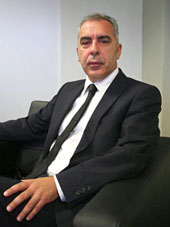 The NSW Higher School Certificate (HSC) is the most significant opportunity for school students to demonstrate their academic achievements. It is an internationally recognised credential that leads to further studies, both here in Australia and overseas, and provides the skills students need to move into the workforce.
' The syllabuses are the foundation upon which our teachers teach, our students learn, and our markers assess.'
For most, it is also the culmination of a 13 year journey.
Every year around 70,000 students select from over 100 courses, the five or six courses that they most enjoy and believe they will do well in.
The HSC results are released in December, after the HSC written examinations are conducted and marked. These exams make up 50 per cent of a student's mark. The other 50 per cent comes from school-based assessment – which means that HSC students have now, in September, already completed half of their HSC.
And students studying courses with a practical or oral examination component are even closer to their goal, as these examinations have already been completed.
It's good for students to remember this, as they knuckle down for their final preparation and revision in the lead up to the HSC written examinations.
The school-based assessments and the examinations, both practical and written, share the one strong foundation: the NSW HSC syllabuses. The syllabuses are the foundation upon which our teachers teach, our students learn, and our markers assess.
I believe that NSW's rigorous and proven syllabus development process ensures we maintain our high standards, while constantly improving what we have.
This process involves extensive consultation with academic experts, school sectors, teachers and parents, and includes time for discussion and implementation.
As each student counts down to Day One of the written examinations, my advice is take the time to review the relevant HSC syllabuses and assessment and reporting documents. They are what we use when setting the content for each HSC exam, and they form the basis of the marking guidelines. Another useful resource is the Advice to HSC students about examinations which can be found on Students Online.
All these documents are available on the BOSTES website.
If you are unsure of something speak to your teacher. They welcome and encourage your questions.
I know when you are in the midst of the HSC it can sometimes seem overwhelming. Remember you are well prepared – as I said before, it has been a 13 year journey, and you are almost there.
Successfully completing the HSC shows resilience – it is a challenge, but it is founded on quality syllabuses that provide students with skills that will be of use in further study, at work and throughout adult life.
It is more than just an important piece of paper – it is a passport to opportunities at home and abroad, a credential that is sought by further education providers as evidence of academic ability, and a solid foundation from which to strive in the future.
Good luck to each of you as you accept the challenge to become a recipient of the internationally recognised Higher School Certificate.
Tom Alegounarias BEc, DipEd