President
Board of Studies, Teaching and Educational Standards NSW President
Tom Alegounarias BEc, DipEd.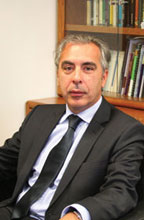 Mr Alegounarias was appointed President of the Board of Studies, Teaching and Educational Standards NSW (BOSTES) in January 2014.
He was previously the President of the Board of Studies NSW and founding Chief Executive of the NSW Institute of Teachers. The BOSTES commenced operation on 1 January 2014 and brings together the functions previously provided by the Board of Studies NSW and the NSW Institute of Teachers.
Mr Alegounarias is the NSW nominee to the Australian Curriculum, Assessment and Reporting Authority Board. He is an Adjunct Professor in the Faculty of Education and Social Work at the University of Sydney. Previously he has been Director of Equity and General Manager of Strategic Policy for the NSW Department of Education and Training where he was responsible for national, cross-sectoral and cross-agency policy and liaison. He has been Chair and Executive Officer to a number of national policy committees, including the Schools Resourcing Taskforce of the Ministerial Council on Education, Employment, Training and Youth Affairs (MCEETYA). He was co-founder and inaugural chair of the Australian Centre for Equity through Education.
Speeches
NSW Aboriginal Education Consultative Group (AECG) Annual Conference, Manly
Friday 15 March 2013